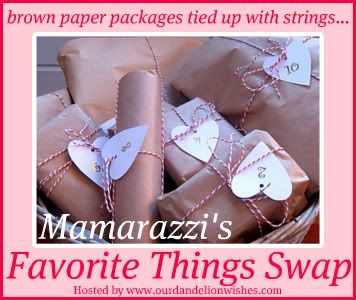 I love swaps.
Love, love, love.
"Get hooked on swaps not drugs," its my new motto.
Shirts to come soon.
Here's how it all went down: I got paired with Jennifer from
Life with the Haas'
. She bought for me her favorite things, I bought for her my favorite things, we exchanged packages via the trusty postal system, opened said packages and squealed with delight.
I squealed. Jen, did you squeal?
AnyChristmasinMarch, the following (in painful detail) is the unveiling of my goodies:
This is my seven pound package. Seven pounds.
What else weighs seven pounds: babies, large chickens, a five-pound and two-pound weight. Seven pounds is a lot, is what I'm trying to say.
(more on why blogger does not rotate my pictures at a later date)
Corey was almost more excited than me. He wanted this to be like Christmas where he presents me with each gift.
A-dorable.
So I told him he had to be part of the pictures.
It may or may not have taken us ten minutes and more than five test pictures to get one "approved."
Eventually, we dug in.
Obviously, my swap buddy enjoys a little crazy time. Slip sliding away? Um, yes please.
I tried taking pictures of each item as I opened it, but eventually I realized blogger might not be able to handle the load.
Srsly, there was a ton of stuff in that box.
Round one:
bubbles wand: I'm thrilled to the point of swearing.

He's Just Not That Into You DVD: so funny she sent this; I hated the book, but only because I was in the process of being dumped. Time has passed and I'm sure I'll love the movie too.

Reese's Pieces Eggs: Corey has confiscated these. He says, "thanks for the eggs Oklahoma!"

Weirdo lip balm: for real, this is the weirdest lip stuff I've ever seen, but I think that's why I love it.

Cosmo magazine: why yes I did have to strategically place items over graphic material!
Round two:
scarf: it's brown with every color woven through and I am wearing it today!

slipper socks: with grippers on the soles, or worn inside out for some indoor, wood floor skating.

comfy socks: I live in these kinds of socks in the winter and now I have two more to throw into the rotation!
Round three:
foot scrub: I needed this like I need air; I'm starting to get older lady cracked, dry feet. TMI, you're welcome.

Goldfish crackers: um, why didn't anyone tell me they made sweet goldfish?! Thank goodness Jen is here to bring me up to speed.

Nutella to go: also confiscated by Corey and I oblige because he lets me share the funny things he says.

lotion: smells very pretty and fits in my purse!

body wash: it's the same scent as the body lotion my sister gave me for Christmas, which I used this morning.

face mask: I love putting myself "in a mask" and this stuff is perfect because you have to peel it off. Remind me to share my weirdo obsession with picking at peeling, sunburned skin of former and current significant others.
And finally, all together.
So much stuff!
A million thanks to Jen and to
Mamarazzi
for pairing us up and hosting a favorite things swap party!
It was my favorite.